BestNameBadges.com
Why Name Tag Ideas for a Wedding Is a Genius Idea
Weddings are some of the biggest and best celebrations of your life. When it's your own wedding, you want to ensure everyone is comfortable and having a good time.
Don't know everyone? Name tags for weddings can be lifesavers for everyone.
Find out why something so small can make your wedding the event of the century.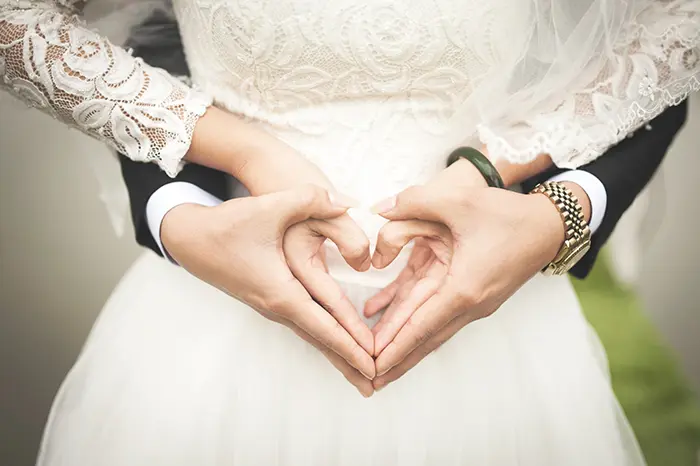 Remembering Names
You might struggle to remember some of the names of distant relatives you invited let alone friends or relatives of your spouse-to-be.
Name tags will help you skip that awkward beat of trying to remember a name. A name doesn't have to be a boring sticker. It's your special day; get stylish tags that celebrate the wedding.
A fun idea for name tags is to include their relation to the beloved couple. Some examples are "Cousin of the Bride" or "College Roommate of the Groom". Get creative as you want.
If you don't want to go through writing down everyone's' connection, you can color code the name tags. Red might mean family, blue may mean friends, and green could be guests.
The name tags should be in big letters for everyone to see. Make everyone more comfortable by making remembering names of important people from your life simple.
Learning Names
It's impractical to expect you or your guest to remember everyone at a celebration. When you have your reception, there will be plenty of guests who you probably haven't met yet.
The plus-one group is full of wives, husbands, significant others, and friends of your invited.
Introductions are still necessary, but the name tag will help you learn it. There are different memory devices you can try, but having a name on their chest is a great cheat sheet.
Your guests are going to appreciate seeing name tags to learn names, too. They've probably heard stories from your or friends about interesting figures. This is a great way for them to a face to the name.
Name Tags for Wedding Receptions Can Be Fun
The wedding reception might not be a big one or it might be less formal. It's time to let your hair down and have some fun.
Nicknames
Whether your guests have had nicknames since birth or you're trying to make one up for them, nicknames can be fun and endearing ideas for the tags.
The nicknames are especially appropriate for smaller receptions where everyone knows each other. Bigger receptions could produce an awkward atmosphere for your grandma and former college friend.
Nicknames can also start discussions. People will inevitably be searching for conversation topics after talking about you and your significant other.
If most of your guest list is on social media, you can put their Instagram or Twitter handles under their name. Always check with your guests before doing this. Not everyone wants to be found online.
Drink Markers
Name tags don't have to be on the guest. Wine glasses are a creative way to have name tags.
Specialize the wine glasses to be engraved with the guest's name. A more affordable and budget-friendly way is to purchase ribbons with names on them.
The ribbon will tie around the handle of the wine glass. Your guests will never have to question if they have the right drink.
Make Them Magnetic
No one wants to peel a sticker off their expensive shirt or dress. Name tags that require piercing fabric are out of the question.
Use magnetic name tags to prevent damaging fabric. The metal will make it a little more classy, too.
After the wedding, guests can take the nameplates home and use them on their fridge as magnets. Everyone likes to have a keepsake or memento after attending events.
Save Your Wedding Planner
Your wedding day is going to be dedicated to enjoying your new spouse, chatting with old friends, seeing the distant relatives from Wyoming, and eating delicious food.
The one person who will be doing nothing but work is the wedding planner.
Imagine trying to coordinate and direct an event but not knowing the names that go with the faces. That's what it's like for the wedding planner.
If everyone has some identification on their persons, it can make the day a lot easier for your planner. When they are directing servers or crew members, they can identify and help people quickly.
Photographers and videographers will enjoy the name tags as well for the same reasons. Finding specific people you want to be photographed or filmed just got easier.
If the film crew isn't familiar with you or your guests, they may semiconsciously film the same people over and over.
Turn the Name Tags Into Tickets
Don't think your guests will wear the name tags? Make them tickets of admission for your reception.
After receiving all the RSVPs you sent, send out your personalized name tags and let them know it's the ticket for admission to the reception. They will get the picture you want them to wear the identification.
Another good motivator is making the name tags drink tickets. For those with open bars, instruct the server to only give drinks to those who wear the name tags.
Your friends and family will be talking about the cool ticket identification for years to come. Don't worry about people not liking it, they'll understand what you're trying to do when it's explained to them.
Join the Fun
Everyone at the wedding is going to know who you are. There is absolutely no need for you to wear a name tag...but you want to join the fun!
If you have family or friends who still seem hesitant about wearing name tags, you can wear them to show everyone you're having fun with it.
It'll make for a great memory and a fun story to tell people in the future.
Make a Memorable Wedding
Your wedding is going to be one of the best moments of your entire life. Name tags for weddings will make it a stand out memorable event.
If you're ready to start the most unique part of your wedding, contact us for your name tag needs.