BestNameBadges.com
Event Attendance: How Your Event Badge Can Help You Obtain Conference Metrics
Tracking event attendance is crucial to measuring the success of your event, tracking event progress, and gathering data on your attendees. How can this be done effectively, though?
Would you believe us if we said, an event badge could help you optimize your event by promoting networking and event attendance tracking with ease? No? What if I added that it was called a smart badge? No idea what that means?
Let's find out.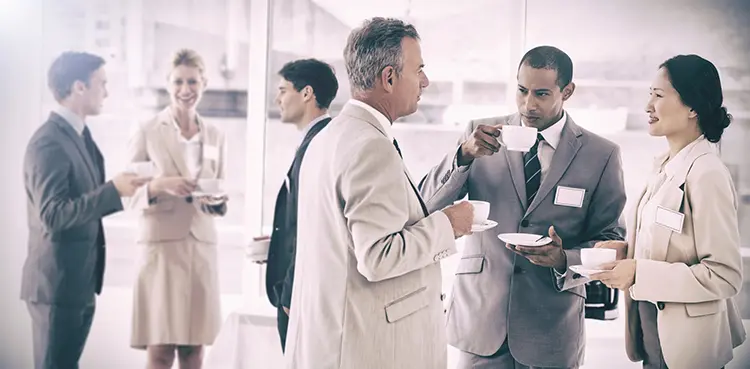 What's a Smart Badge?
When it comes to registration, the time-consuming process of manually registering attendees are over.
Long lines, frustration, and the overall mood-killing are gone, allowing people to feel more relaxed and more likely to engage with one another at the event.
Standard badges are a thing of the past. Wearable technology is a massive leap in the right direction for events, business meetings, and networking.
When using a smart badge, you have the tool to improve the overall event experience and be provided with better data on your attendees.
How Do Smart Badges Work?
Smart badges can be worn in several ways, such as a wristband, on your sleeve, or even as a button. But the most popular and standard method is simply attaching the badge to a lanyard.
This wearable technology is designed to help facilitate introductions between people with shared interests. It's especially helpful to those who struggle with networking.
How can this be?
It helps take away the awkwardness of a strange situation. Networking isn't something that comes naturally to the majority of us.
It helps to ease the discomfort. Unnatural situations create awkwardness. When we put ourselves "out there," there is always the risk of rejections, and we may feel overwhelmed or even "threatened."
It helps networking. By giving attendees more confidence, smart badges help to aid even the most introverted of people.
Before an event, a multiple-choice survey, containing professional and social questions, is filled out.
These responses are programmed into the participant's smart badges. The badge is then put on the person's lanyard, and if they came close to someone who shares a common interest, the badge lights up. Ingenious!
It's a great way to be more sociable and try a friendlier and less salesy approach to networking. You can learn about the other person personally and their business with ease.
More Benefits to the Smart Badge
Aside from helping to break the ice and establish connections with people, these smart badges help events gather valuable information after the event.
Demographics such as interests, professions, and home locations can be measured and gleaned with the device.
A company or event can tailor the pre-event survey to try and obtain sought-after demographic information. Adding to this, some smart badges have features that help maintain connections after the initial networking.
How Else Can Smart Badges Improve an Event?
If we've not given enough benefits to a smart badge, continue reading, as there are more great features and reasons to include them in your next event:
Wearable
These aren't just your standard badge, you've probably gleaned that much by now. They don't even have to be a badge that you put on a lanyard; they can be like an accessory. You can have these smart devices as a button, a wristband, or a sleeve.
Fun
This is a much more user-friendly way of getting people to start conversations with strangers. Adding to this, the light system which responses to the attendee's actions makes it a fun and light-hearted approach to interact with others.
App
That's right; there's an app. It's probably not that surprising, to be honest. With this app, you can track the number of people who attend and their experience from start to finish.
This isn't all; the app allows organizers to have an immediate record of attendee's interactions, plus the information they decided to share. The app is also the perfect way to ask for feedback after the event and measure people's satisfaction.
Attendance
As mentioned above, you're able to track how many people attend your event. This is crucial not only to gather whether the event was successful but also allow you to monitor improvements or shortcomings against future events.
A list of those attending and a list of who's accepted the GDPR terms and conditions can also be obtained. Information on people's interaction levels can be gathered too.
Control and Dash
What? Control panel and live dashboard. The control panel helps organizers to manage the event, from branding to integrating more functions on the app, to the attendee's profiles.
The live dashboard is where the analytics are kept. It monitors how many people are at the event and on-site, compares the engagement levels of attendees, and compares this data with different days.
Event Attendance Tracking
In terms of attendance, the control panel is the event organizer's dream. It is the control panel that helps those organizing the event to have a real-time overview of registration.
Through a passive tracking system, organizers can get a general idea of how many staff members, exhibitors, and participants are in different areas of the event.
Foot traffic, dwell time, and engagement levels in specific sites or around certain activities can be monitored too.
How? This can be done through a live heatmap. Having something like this helps organizers allocate more staff to busy areas based on the real-time data acquired.
Your Event Badge Can Make a Difference to Your Business
Anything that speeds up the sign-up process of registration is going to be an improvement to your event.
But event attendance tracking is not all a smart badge provides. As you've read, the badge has many features and opportunities to improve your business meetings, networking, and events.
Take advantage of this innovative technology and make the most out of your event. Not only will this improve the participant experience, but it will aid the organization and help businesses monitor and obtain essential data and information.
If you've enjoyed what you've read or would like to know more about what we do, please reach out and contact us to find out more.