BestNameBadges.com
Creating an Effective Name Badge: 7 Tips That Will Help You Enhance Your Event Experience
Throwing an event in the near future?
You're not alone! Indeed, some 70% of people in the marketing world are setting aside more money for events than ever before.
With hundreds of events happening at any given time, you don't want yours to be any old affair. You want it to be an unquestionable success, bringing people together around a common purpose, and leaving a lasting impression upon them.
Event name badges might not seem like the be-all and end-all of the occasion. However, they can have a disproportionately positive impact.
After all, the devil's often in the detail; having a means of facilitating introductions between attendees can make a mighty difference. Furthermore, from an organizer's standpoint, name badges support data collection and identification too.
Looking to design the best badge possible for your upcoming event?
Read on for 7 top tips for doing exactly that.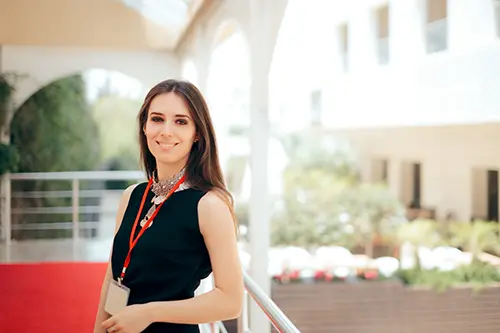 1. Pick a Sensible Font
All good design relies upon a quality font.
However, picking the right font is especially important for name badges.
At such small scale, typographic mistakes can render the badge illegible (more on this later). Make sure the font itself is on-brand, readable, and stands out sufficiently from the background.
Guests shouldn't have to squint or lean in awkwardly to read somebody's badge. Thus, it's of vital importance that you pick a font, font size, and font color that can be easily read from afar.
Remember, it might look fine on-screen at triple size! It can be a different story when you print them out at scale, though. Be sure to check the readability at actual sizing before sending it to print.
2. Keep It Simple
Simplicity is the key to success in your name badge design.
It's tempting to cram is as much information onto the badge as possible. But the worst thing you can do is make it too involved, busy, and complex in nature. Alas, that's a recipe for illegibility, which renders the badge unhelpful at best and pointless at worst.
Avoid going overboard in every aspect of the badge. Include plenty of white space around features and think twice about including any unnecessary information.
More on that point coming up…
3. Incorporate Essential Information Only
In the interest of simplicity, only even include relevant and helpful information on your badges.
Somebody's name, company, and job title usually suffice.
Any more and you risk taking up unnecessary space. Remember, you'll probably want the logo of your company and a barcode/QR code on the badge as well. Fitting everything onto a tiny piece of card while ensuring everything remains legible and pleasing to the eye can prove challenging.
As a result, less is almost always more in terms of information.
You want guests to be able to scan someone's badge in an instant and come away with everything they need to know. That's far harder to do when they're getting lost in a sea of unnecessary stuff.
4. Size It Sensibly
In the world of event name badges, size really does matter.
Having a name badge that's too small to read defeats the point of wearing it. However, it's just as undesirable to have badges that are so large and ungainly that nobody wants to wear them.
The trick is striking the right balance.
Ensure your design is large enough for all the information upon it to be easily visible, without proving unhelpfully heavy and uncomfortable to wear.
Consider experimenting with a few different sizes before committing to the print. See which one works best and go from there.
5. Ensure Barcodes Scan Properly
Make sure any barcodes/QR codes you include can scan properly through the badge protectors.
Scanning these codes helps you register attendance and acquire data about the event. If they don't scan, then you lose out on all that valuable information. Difficulty scanning these badges will also slow down the entry process into the event.
This can lead to undue stress on your part, and frustration of the part of queueing attendants.
Do what you can to verify that your codes scan before committing to the print. Make them large enough and ensure the print quality is adequate too.
6. Work with Professional Designers
Not everybody has a knack for design.
For the artistically challenged out there, it can pay to solicit the support of a professional designer. Employing a pro to put together your name badges is a sure-fire way to enjoy a quality outcome.
Moreover, you'll save yourself a job in the process.
As you know, hosting an event is hard work! With tons to do and not enough time to do it all, outsourcing your design work makes practical sense as well.
Hiring a professional effectively kills two birds with one stone. You can rely upon an awesome end-product with none of the hassles of designing it yourself.
7. Forget Frugality
There's nothing worse than a budget-looking badge.
Poor design, poor production, and poor-quality end results send all the wrong messages about you and the event itself.
People are judgmental by nature, forming lasting first impressions within 7 quick seconds!
A low-quality name tag might be all it takes to color someone's impression of your event in all the wrong ways. Spending a little extra on creating quality event badges can pay dividends.
As a tip, buying badges in bulk is a good way to bring the price down. That's good news for large events with significant numbers of attendees. You get a quality badge at discount prices.
Design the Perfect Event Name Badges
Event name badges often get overlooked by organizers.
They're deemed unimportant versus other items on their to-do list. Often, the badges are thrown together in a rush at the last minute, leading to a subpar end product.
Investing time and money into your badges pays dividends in a variety of ways. From heightened event first impressions to improved networking capabilities for guests, and data analysis for organizers, quality name badges can work wonders.
Hopefully, this article has provided all the tips you need to create the best badge possible.
Ready to go to print? Contact us today to see how we can help.